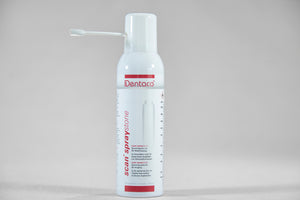 Scan Spray Stone (200ml)
The '2 in 1 Spray' spray for perfect model scanning and bubble-free casting.
1st Function: The finest scan spray on the market!
The special powder valve system produces a micro-thin uniform powder layer under 3 microns.
Saves time, dries instantly
Economical to use, 6.8 oz (200ml) can allows over 400 single tooth applications.
2nd Function: Bubble-free casting
The fine powder coating eliminated the surface tension on all elastomeric impression materials.
One short application without drying time produces superior, bubble-free models in seconds.
Non-alcohol based carrier dries quickly.
Pointed application nozzle with clogging free micro-tip reduces waste and improves application accuracy.